Creating a Table of Contents or TOCs is very useful when a document is lengthy. It gives a quick summary of what the document is about. Making a table of contents in Google Docs is a quick and straightforward method.
Before we start how to make a table of contents in Google Docs, you should know how to use it and how to add headings.
You can create table of contents in Google Docs by adding headings and subheadings in a proper format. After that, it is easy to edit and update the table of contents including adding page numbers, color formatting, clickable links, etc.
How to use table of contents in Google Docs
To use a table of contents in Google Docs it is necessary to make the heading style first. First of all, compose the document correctly with heading and subheading. So that when you create a table of contents it will generate automatically.
How to add heading in Google Docs
Open Google Docs on your computer browser and open that document in which you want to add headings for a table of contents.
Select the important heading part of the document from the mouse then navigate to the "Toolbar" under the "Menu options" from there click on Normal text options to open a list of headings. Then select Heading 1.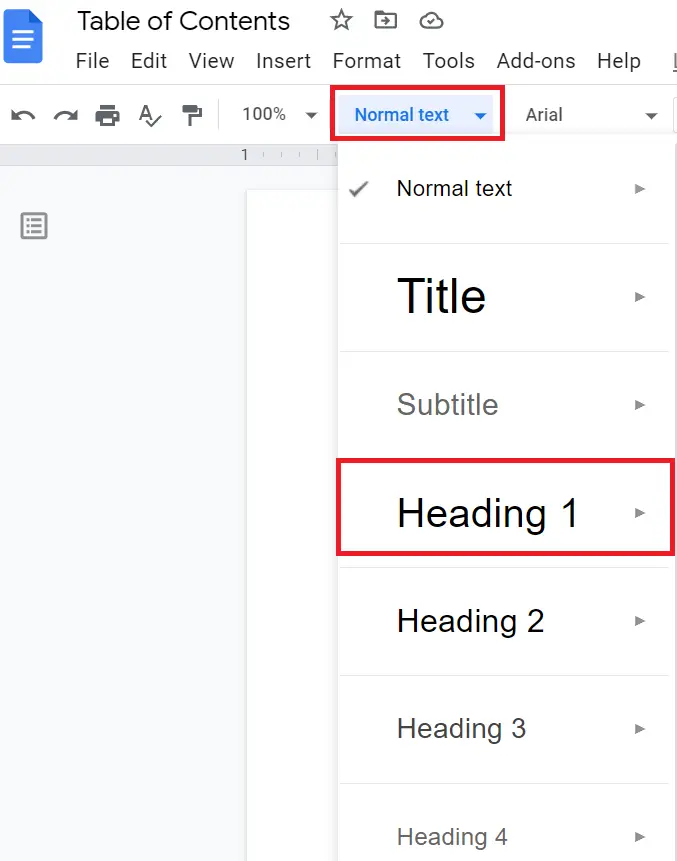 Note: You have to select the Heading part of document not the main Title of page.
By following the same above process you have to make the hierarchy of heading in the documents like heading 2, heading 3, etc.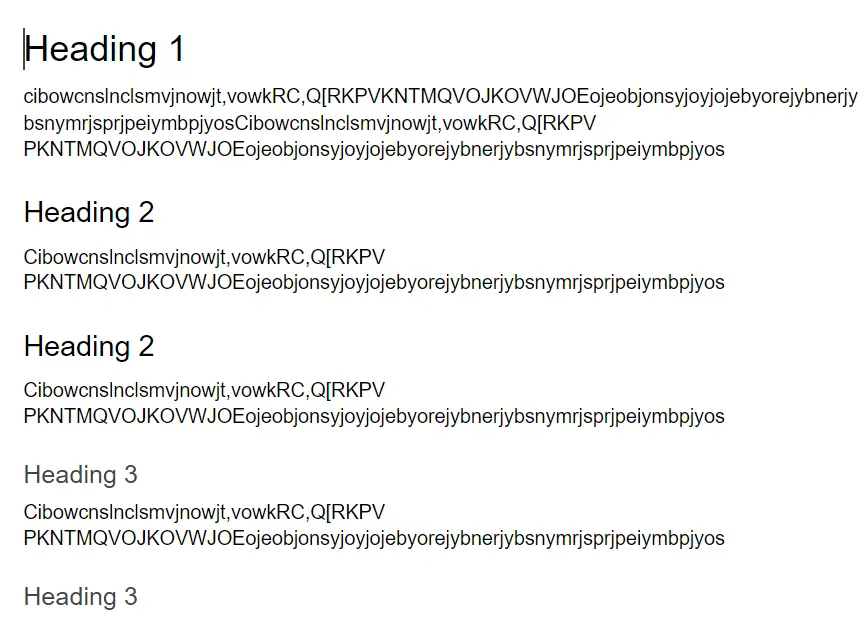 How to make a table of contents in Google Docs
After creating the heading in a hierarchical manner in the documents, now you can make a table of contents in Google Docs dynamically and automatically.
Now you have to place the cursor where you want to put table of contents, obviously on the top of the page.
Now in the "Menu bar", click on "Insert" option then go to the bottom and click Table of Contents. See the below screenshots.
When you click Table of contents, you will see two options
With Page Numbers
With Blue Links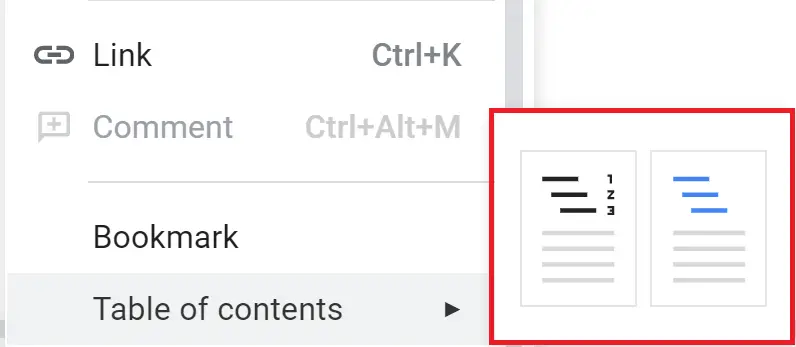 If you choose With page Numbers option, it will add page numbers with headings and gave an idea of where those headings are appeared on a page either on Page1 or Page2, and it will show when you take a printout of the page.
If you choose With Blue Links option, it will create a clickable table of contents on Google Docs and add hyperlinks to the headings so that when a person clicks on that particular heading he will directly jump to that particular section without scrolling the whole document.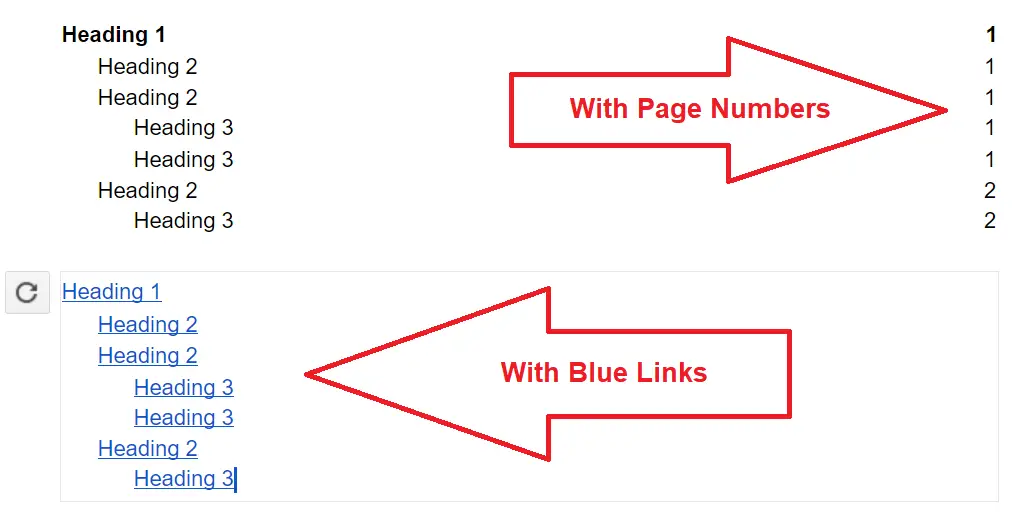 You can select any option which you want to use on the page.
How to format table of contents in Google Docs
To format table of contents take the help of the "Toolbar" option in Google Docs. You can change the appearance and customize the table of contents by changing font size, font color and also add dots in table of contents.

A small example of customized and slight modification with changing of hyperlinks color to red and adding bulleted list dots in table of contents in Google Docs. Instead of adding dots, you can add numbers to table like 1.1, 1.13, 2.1, etc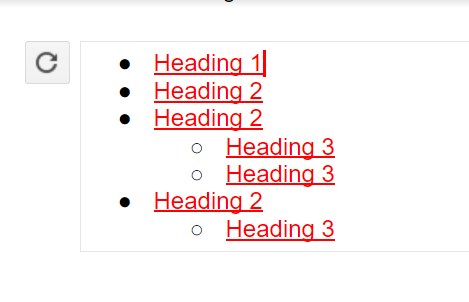 How to update table of contents in Google Docs
You can update table of contents by clicking the refresh button icon. After changing any heading section of your document, just click the refresh button and your table of contents will get updated. You will see the icon on the left side of the table of contents box. Check the below image as reference-
How to remove table of contents in Google Docs
It is very simple to remove the table of contents from the document. Just right-click in the middle of a table of contents box and select "Delete table of contents" from the Google Docs document.

A table of contents helps both readers and writers to understand the quick summary of the document and with small customization, you can make it good-looking and matching with the document.
Read Also – How To Check Word Count on Google Docs
How to Insert Special Characters in Google Docs/Google Sheets