How to save something as a pdf online? Whether it is an image, webpage, or text article. If you need to know how to save webpage as PDF format then you don't need any extension or online services to save the HTML webpage as PDF.
How To Save Webpage as PDF on Windows? If you are using Chrome browser, Edge browser, Firefox on Windows, or Mac then there is a built-in function that you can use it. But if you are looking for online services then we will also discuss that.
With the help of a browser, you can convert and download webpage as PDF format and use the document at any PDF viewer, or you can share it like a normal PDF document, etc.
How To Save Webpage as PDF on Windows
Save Webpage as PDF Chrome
Open the webpage in Chrome Browser which you want to save as pdf file format.
Then, on the right-hand, upper corner click three vertical dots, Go to Print, a new window will open, or you can also use Ctrl + P(for Windows), Cmd + P(for Mac) shortcut to open the print window.
Now under Destination select Save as PDF. This will save all current webpages in PDF file format.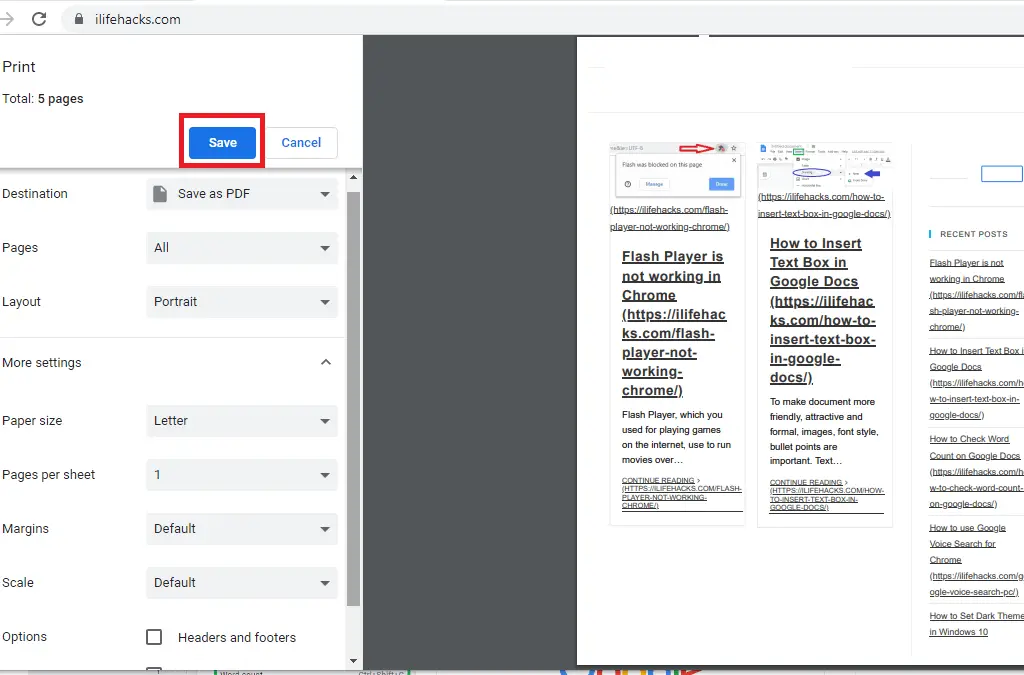 You will also get lots of option under More setting like webpage layout, Headers and Footers, Background graphics, etc.
After doing all settings click the blue color SAVE button to print as pdf. This will directly save webpage as pdf via chrome on your computer.
Save Webpage as PDF Firefox
Open the webpage in Firefox that you want to save and download in PDF.
Then press Ctrl + P keys from the keyboard to open a print window in Firefox. You can set the orientation of the page in either landscape or portrait form. Now under the Destination select save to PDF and click the Save button for saving the document on your Windows computer.
Save Webpage as PDF in Microsoft Edge
To save webpage as pdf in Edge browser, simply click the shortcut Ctrl + P.
A new window will open(image below). From there you can select Orientation, number of pages, etc. Then select Microsoft Print to PDF to save as PDF
Convert Webpage to PDF via Online Services
If you do not have Chrome, Edge browser, or if you are facing difficulty by doing the above process, then you can use Webpage to PDF services to convert any Html webpage to pdf. It is a free tool available online which convert URL to PDF.
These are the very best ways to save any website as a pdf over the Internet without any extension.