Google Docs provides lots of features to make and work on the document professionally like formatting structure, voice typing, inserting special characters, etc. Outlining documents is one of them.
An outline in Google Docs gives a direct and clear idea, of which context the article is written about.
Google Docs Outline feature is used to organize the document, helps to get an overview with proper navigation of the entire document. Whether it is essay writing, resume writing, or article writing.
With the help of a document outline, users can easily navigate to any section of the page with the help of heading and subheading levels of the docs.
How to use document outline in Google Docs
You can use the Google Docs outline tool when your document consists of proper title, headings, and subheadings section. If the document doesn't have a header structure then you need to create it manually. Below we will see how to create, update and show outline in Google Docs.
How to add outline in Google Docs
To add text to an outline in Google Docs you have to manually create a header structure in a document then Google Docs will automatically create a heading as an outline on the sidebar. Follow the below step-
On your desktop computer open Google Docs
In the "Menu bar" go to Format > Paragraph styles and give a nice header structure to the document with main heading and subheadings. Once the document is formatted you can view outline in Google Docs sidebar.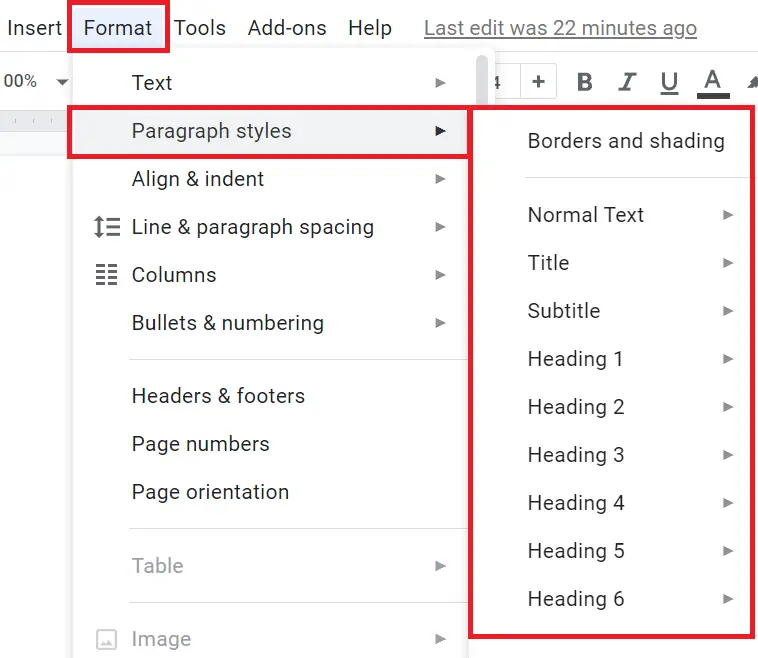 How to see outline in Google Docs
Once the document is formatted, in the "Menu bar" go to the "View" option then navigate and click on Show document outline
You can view outline format structure appear on the left sidebar of Google Docs. All the heading that appears on the sidebar will get indented according to the lower level.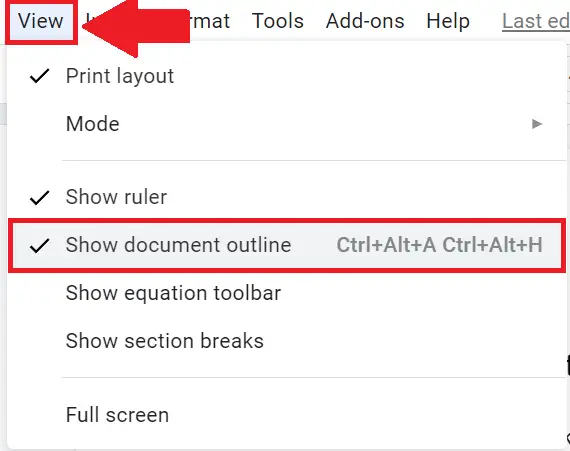 You can also use "Ctrl+Alt+A" or "Ctrl+Alt+H" as a Google Docs outline shortcut with the help of a keyboard.
How to edit document outline in Google Docs
Put your mouse cursor on the heading of outline you want to remove, "X" symbol will appear, hit the "X" symbol to remove the sections from an outline.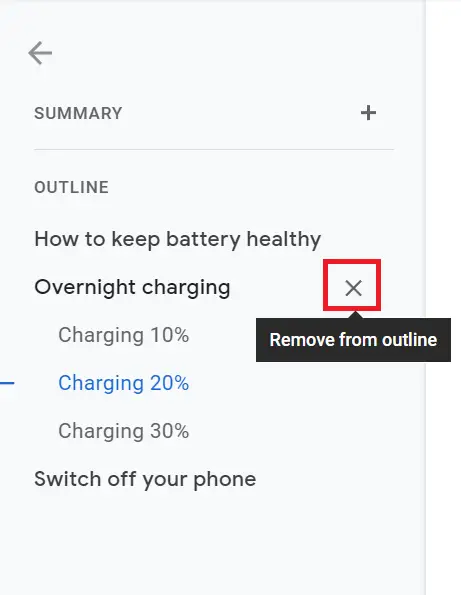 To edit the text in the document outline section, make changes in the heading of the document and hit the update, your document outline text in Google Docs gets updated automatically.
You can also change, remove and use the document outline to move around the content just like using a table of contents in Google Docs.
For navigating in the document with the help of an outline just click any heading, and you will directly jump to the particular section of the page.
What if Google Docs outline not showing
If your document doesn't consist title, heading, or subheading outline will not be shown. First, organize the document with proper headers then you will view outline in Google Docs.