Fullscreen allows you to remove any obstacles and distractions from the screen appearing on the top or bottom bar in Windows. Working on the borderless screen while playing games on a laptop, surfing on a browser, and seeing a video on full screen mode increased the performance.
In Windows PC whether you are using Windows 7, Windows 8, or Windows 10 some shortcuts remain the same after even an update. Here you will know how to get full screen shortcut key Windows 10 laptop. And also on Youtube, Chrome browser, VLC player, etc.
Full screen shortcut key Windows 10
To make File Explorer full screen you can use the "F11" shortcut key as full screen button on laptop or desktop. While working on Windows 10 desktop or laptop you can disable or hide the toolbar or taskbar to achieve full screen.
Right-click on Taskbar, Choose Taskbar Settings. Turn On Automatically hide the taskbar in desktop mode and tablet mode.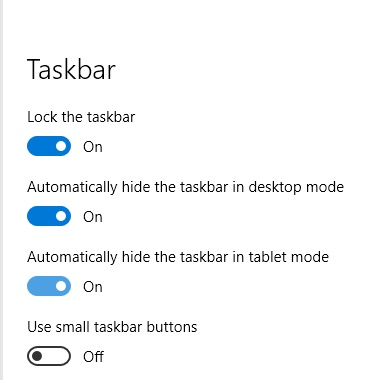 To exit full screen just disable or turnoff either desktop mode or tablet mode.
There is also shortcut for switching between Window 10 Virtual Desktop
Google Chrome full screen shortcut Windows 10
If you are using Windows 10 PC then on Google Chrome browser, you can use "F11 function key", which is a full screen shortcut key to enlarge the screen on a PC, and common for full screen mode to the computer screen. You can use "F11" to any browser for a full-screen mode like in Microsoft Edge, Firefox, etc. To exit the full screen just press the F11 key again.
VLC full screen shortcut Windows 10
You can make videos full screen in VLC media player during video play. You have to use VLC fullscreen shortcut "F key" to maximize or minimize the window size or you can double-click the screen to make screen bigger in Windows 10.
Youtube full screen shortcut key
To activate full screen in Youtube, the "F" key is the shortcut key for full screen in laptop to enable or disable full-screen mode. It will remove the video suggestion from the list and play Youtube videos on a full-size screen.