It is always better to improve and correct your writing mistakes before sending the email through Gmail or other mailing systems. In Gmail, you can check the spell and grammatical errors in the mail that you are composing, sending, or receiving.
Gmail provides spelling suggestions, grammar suggestions, and autocorrect features simultaneously. You can turn On and Off the spell check in Gmail according to the use. Autocorrect is different from Gmail autocomplete which is a smart compose feature.
How do you turn ON auto spell check in Gmail?
Open a Gmail account on your desktop computer.
Click on the "Gear" icon then click "See all settings"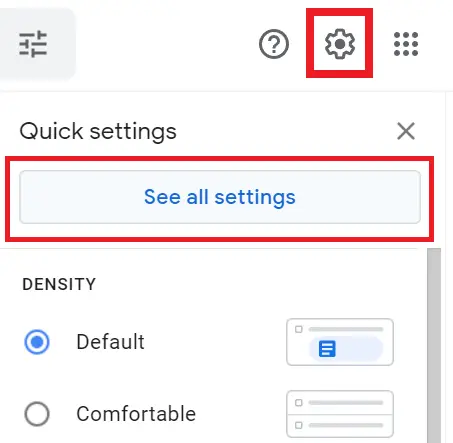 At the top click on the "General" tab
Now turn On automatic spell checker in Gmail following feature
Grammar
Spelling
Autocorrect
Now when you will compose the email you will see the red line error under the word that was wrong.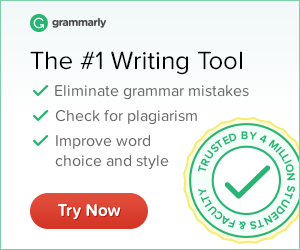 How to spell check in Gmail before sending
After turning On the spell check feature, compose the email. After the composing is done and before sending to recipients click on "More options" three vertical dots in the bottom right corner and click the Check spelling option.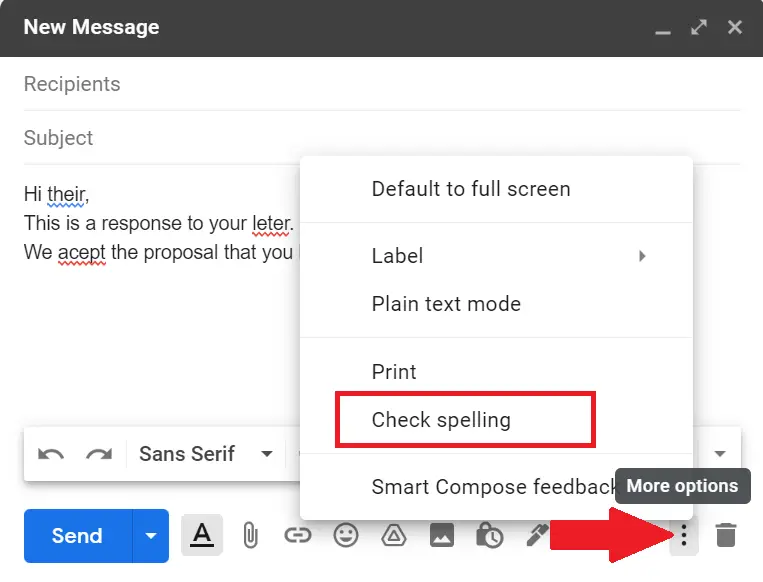 Now Gmail spell check settings will scan the message and all the wrong words will get highlighted in red color.
To correct the wrong spelled word click the wrong word from the mouse and select the right word from the suggested correct ones. If you don't find the correct word simply select the "Ignore" options.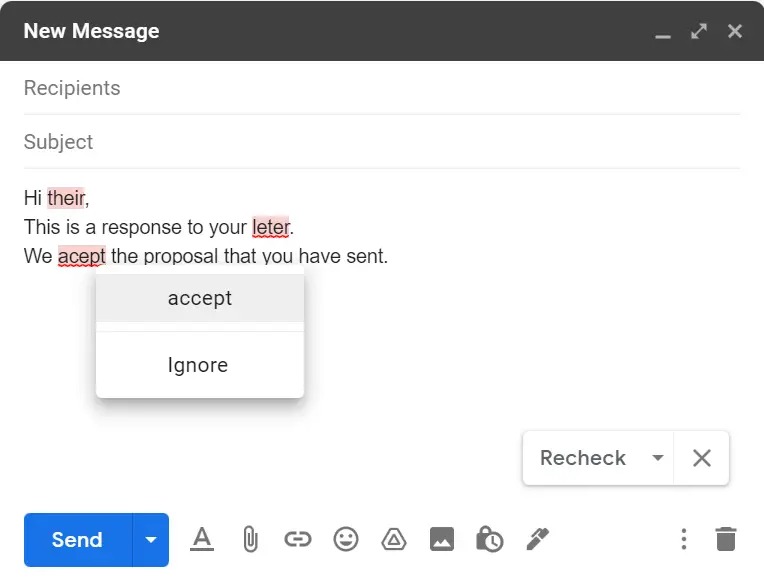 Gmail spell check not working try other Software
Sometimes when the built-in Gmail spell check does not work then also you can try other methods.
To save your mouse clicks before sending or receiving the email you can add spell check to Gmail software for spell check and grammar also. Grammarly and ProWritingAid are two great tools that save lots of time.
Grammarly and ProWritingAid not only work on Gmail but also anywhere where you use writing like Google Docs. You will get a Grammarly extension or plugin that works in any browser whether it is Chrome, Firefox, etc. Below we will see how-
How to spell Gmail on Chrome with Grammarly
Install and turn On the Grammarly extension on Chrome then sign in to your Gmail account. Now compose the email. As you type the word it will automatically check all spell and grammar in real-time, you have to just click the wrong spell word and you will get the correct word.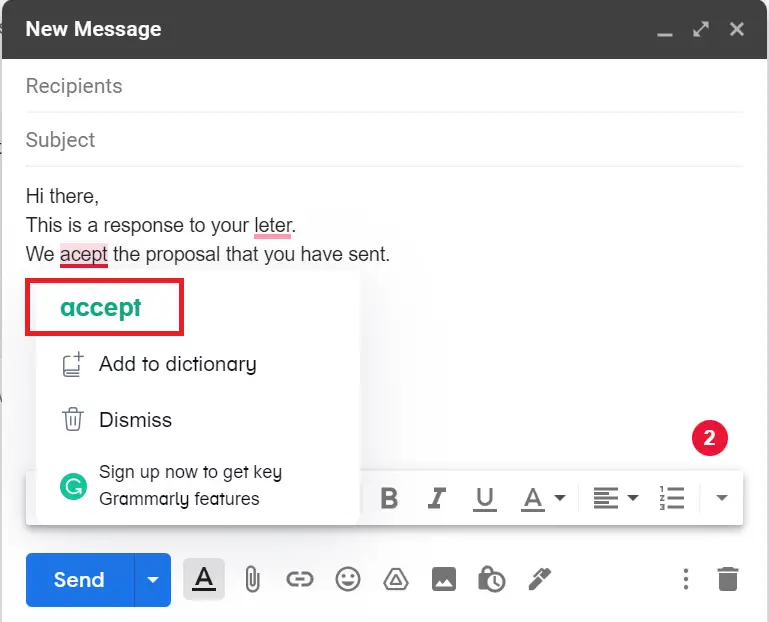 And the best part of Chrome Extension is when you double click any word you will get synonyms suggestions of the related word.