Grammarly is one of the best tools for writing a document online. It helps in optimizing content by suggesting grammatical errors, punctuation, word style, etc. But you want to remove Grammarly from Chrome.
Chrome extensions make the browser more user-friendly, useful, and helpful. There are several add-ons called an extension that takes browsing to the next level.
But, sometimes plugin can be a headache because, might be you have noticed that Chrome loads slowly, get crash when lots of extensions got installed, performance issue or installed any other third party extension without your knowledge.
Then it is necessary to uninstall or remove some plugins from the browser. Here we will learn better ways to how to remove Grammarly from Chrome and Firefox and how to uninstall Grammarly from Chrome.
How to Uninstall Grammarly from Chrome
To remove Grammarly from chrome, you first have to go to the page where all extensions exit. For that-
Open Google Chrome browser on the laptop computer, Go to Chrome Menu navigate to More tools → click on Extensions.
OR you can also type chrome://extensions/ URL in the address bar to directly open the Chrome extensions page.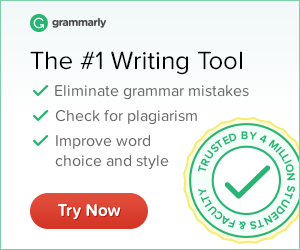 You will see a list of extensions and Chrome Apps installed on your browser. See below image for example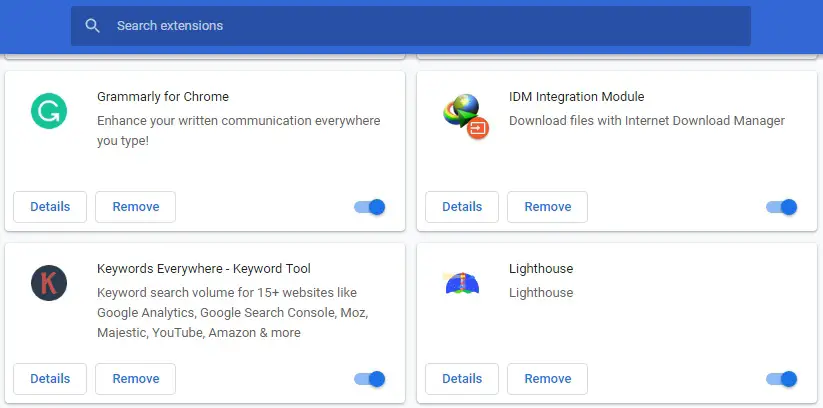 Choose the extensions which you want to remove from Chrome and click the Remove button to uninstall Grammarly.
How to uninstall Grammarly from Firefox
For uninstalling Grammarly from Firefox browser follow below steps-
Open Firefox browser on your laptop
Right-click the Grammarly icon in the Firefox toolbar then navigate and click on Remove Extension.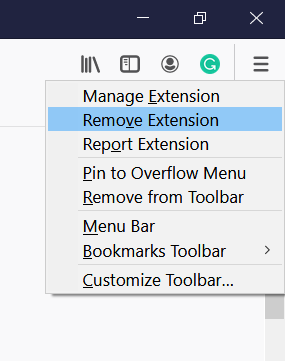 The browser will ask permission to remove Grammarly extension from Firefox. Click the Remove button to completely uninstalled Grammarly from the Firefox browser.

How to delete Grammarly on Chrome
You can disable or turn off Grammarly extension in Chrome on a temporary basis rather than to completely remove it.
To turn off Grammarly extension, go to the chrome extensions page directly by typing chrome://extensions URL in the address bar.
In the Grammarly for Chrome card Toggle OFF Grammarly button.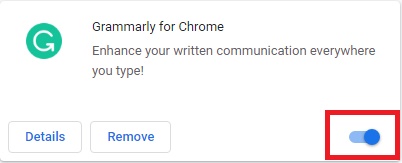 This will disable Grammarly temporarily. Now you can check whether the browser is performing well or not.
You can also reset Chrome browser to default settings where you find which addons are preinstalled. Go to the page How to Reset Chrome browser to Default