In Google Slides whether you are using audio music, embed video from Youtube, or using any other sound effects, and if you are facing a problem regarding playing audio or video in Google Slides then you have to check whether your browser audio permission is enabled or not. There may be audio issues in your browser settings.
Firstly check whether audio sound is working on mobile devices or it is playing music in other browsers or not. If Google slides audio not working then follow the below steps-
Google Slides Audio not Playing
If the audio not playing in Google slides and you are using Chrome browser then you have to change browser settings.
Open Google Slides in Chrome browser desktop
Select the audio or video file in the slides
Now Go to the Search Bar of Chrome Browser.
Click on the Speaker icon and then ON Always allow sound on https://docs.google.com. Click done. See below image for reference-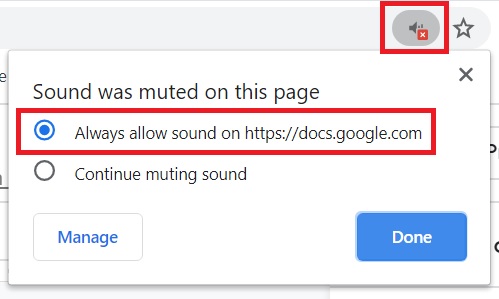 If the speaker icon not visible to you in the search bar then Go to the Lock icon on the left of the search bar Click on it.
Select Sound -> Allow
Now check whether the audio music to Google Slides is playing or not.