Typing a long document is a time-consuming process, and if it's your daily job then it will be a headache for you. What if you just speak and someone starts typing, just like voice dictation.
Yes, in Google Docs you can use your speech to text for composing a document. Google Docs is an alternative to Microsoft Word. If you are familiar with Microsoft Word Document, then Google Docs will be easy for you.
Voice typing on Google Docs supports over 40 different languages. See how to turn on microphone on Google Docs and how to fix if Google Docs Voice Typing not Working
Firstly you must have installed a microphone on your PC or if you have a laptop then there will be already a built-in microphone. Secondly, you must have a Google account to use Google Docs.
Google Docs Voice Typing not Working
Open Google Docs and make login with your Google account.
Navigate to Tools then go to Voice typing. You can also use Ctrl+Shift+S shortcut to enable the voice typing feature.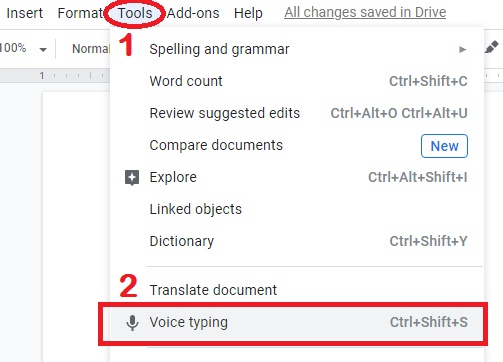 Docs will ask you to allow permission to use microphone on Google Docs. Allow it.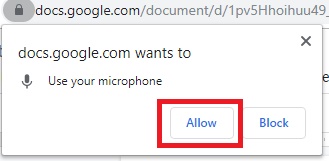 A small microphone voice typing icon will appear on the left side of the screen to activate voice typing Google Docs.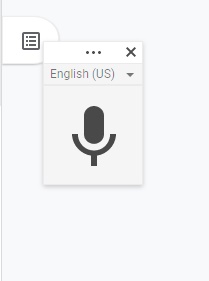 You can choose your language by clicking on dropdown menu. It supports over 40 different languages.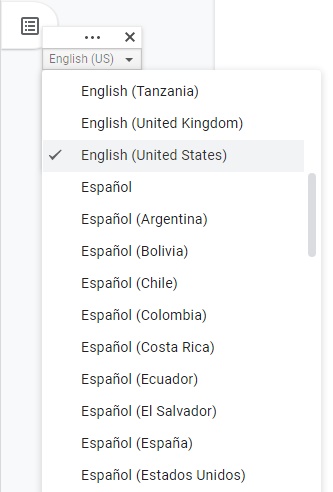 Click on it to enable. Start voice typing.
Google Docs Voice Typing Commands to edit the document
You may found some mistakes during the dictation, but you can edit via mouse and by simple commands. You can directly move the cursor to the correction area, make the correction via the backspace button, or you can use a command says " Backspace" it will delete the particular word.
Click on the "Question Mark" icon to see all commands. There are several commands you can use while editing like select all, copy, paste, etc.
Some Google voice typing punctuation
Period
Comma
Exclamation mark
Question mark
New line
New Paragraph
You can use lots of other commands to make your voice typing to the next level by clicking on "question mark" ( Voice typing help) as shown below image.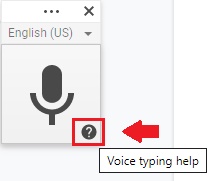 It will give you a lot of suggestions on how to edit your document like
Select all – to select all text
Select line – to select a particular line
Copy – to copy text
Insert table – to insert table
Note – It required a Google account to access Google Docs, a microphone, and your voice.