What version of Windows do I have? Use Winver command to find Windows 10 latest version. Might be you are aware or not about Windows 10 latest version, but it is important to check what version of Windows you are using.
When you buy any PC you check its storage capacity, RAM, graphics, etc, but when you use Windows OS, did you know what current Windows 10 version are you using? 

Because different Windows 10 versions mean different features.
Everyone should know three things about the Windows 10 version number they have installed i.e. the major version of Windows are 7,8,10 etc.; the edition of that Windows version, like Pro, Ultimate, etc.; and whether that Windows 10 version is 64-bit or 32-bit.
What Windows do I have on my Laptop?
Microsoft always provides the latest Windows 10 free updates to its user to make it more user-friendly and provide some security mechanism, and every update has its own build version. Check latest Windows 10 update now
There are different features for both 64-bit and 32-bit versions of the Windows 10 build. In some of the latest updates, the build version can be seen easily without any effort. The latest Windows version has some new cool features like turning Windows into hotspot, task views, etc.
Build versions are different from the previous Windows version, if you think the version is the same in Windows 7, 8, 10 then it is not. See below step how to check build info version you are using-
How to check Windows 10 version using Winver
To check what version of Windows 10 do I have on my laptop use Winver Command
Open Run dialog box by pressing Windows key + R, then type "winver". Winver command will show the current Windows version that you are running, along with the latest Windows 10 version, and Windows 10 build number info.
Winver command is a good way to check the PC info, through this command you can check the Windows version in all the Microsoft Windows operating system.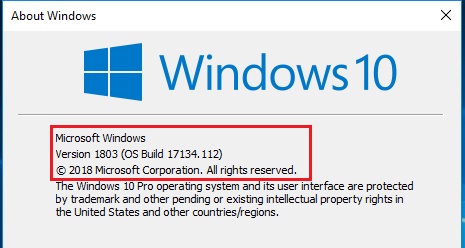 How to check latest version of Windows 10
Through Windows 10 settings you can check the latest Windows specifications like OS build number, Windows edition, processor information, 32-bit or 64- bit System type, etc.
Open Settings app from Start Menu.
Or, you can press WIN + I shortcut keys together to open PC Settings directly.
Now click on the System icon in the Settings app and then click on About tab present on the left side panel. 
On the screen, you will see Device Specifications and Windows Specifications.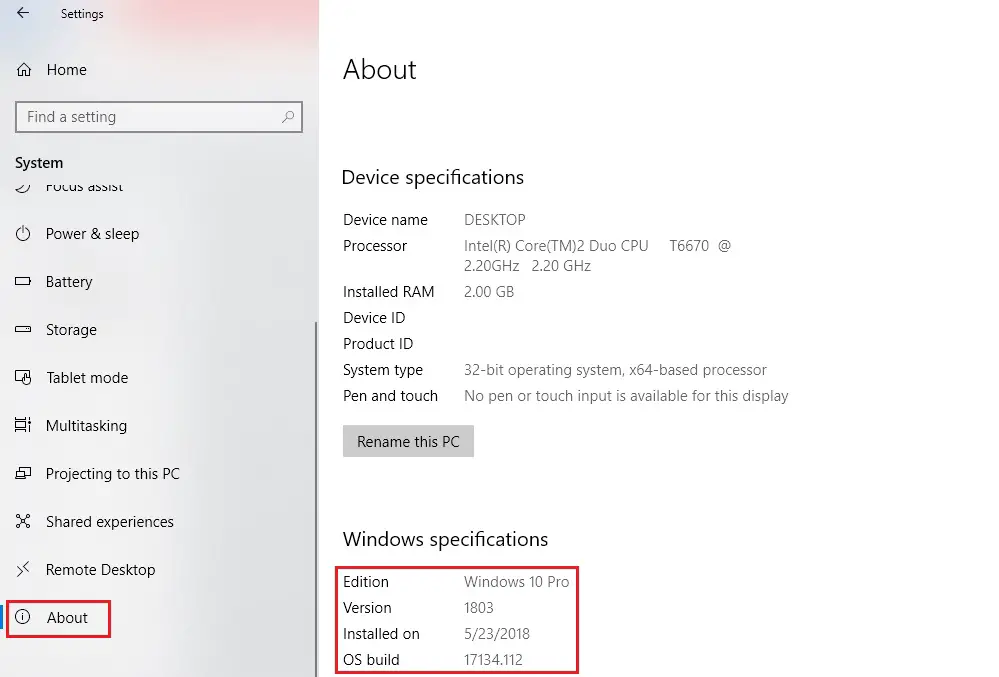 How to check Windows version command line
You can also check the current Windows version by using cmd
Press Windows key + R from the keyboard for opening Run
Type cmd in the box then press Ok button to open Windows Command Line.
In Windows Command Line type systeminfo then press enter to execute the command.
You will see complete detailed information about your Windows current version i.e. OS Name, OS model, System type, BIOS version.